Socially stranded teens, mental health and the pandemic
From the RTÉ website updated / Tuesday, 7 Apr 2020 07:14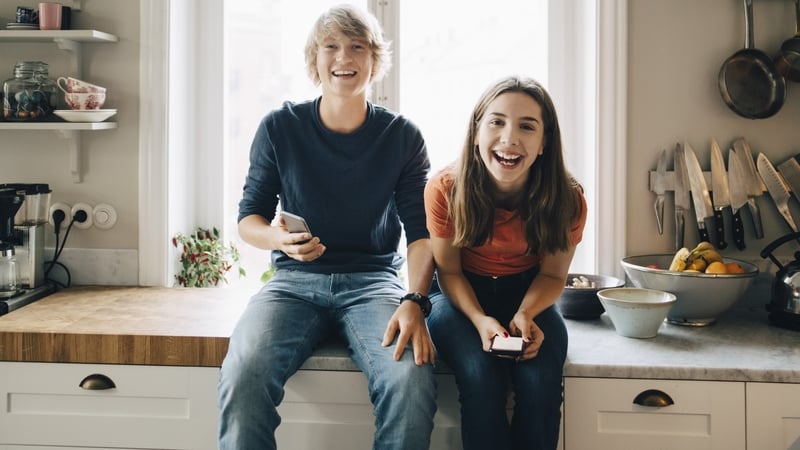 Opinion: recognising the need for social contact will be key to helping young people cope in the coming weeks and months.
Our house is home to three teenagers. Last week, when social distancing first came into practice and teenagers were being criticised for not complying, our eldest became indignant. "Adults are giving out that we're not respecting the science about social distancing" she said, "while they've been ignoring the science on global warming for years". Since Greta Thunberg's rise to prominence, global warming has come to be associated with young people. Social distancing since the coronavirus outbreak, not so much.
A so-called "Corona challenge" has been described in the mainstream media in recent days. It's unclear how widespread these incidents are (our teens hadn't come across this at all on social media), but reports have associated it with young people. Minister for Health Simon Harris recently mentioned an incident when someone thought it would be funny to run up to him and cough in his face. In that case, the perpetrators turned out not to be teens, but an older couple.
RTÉ Brainstorm podcast on how to mind your mental health during the lockdown
Whether these distinctions in behaviour are well founded or not (it wasn't only teens out for walks together), it's made me think about how young people are affected by the coronavirus and whether this differs from older adults. How do pandemics affect the general population? Here, the research has suggested what will probably seem obvious to most. Firstly, information is really important to assess risk and take relevant precautions and, secondly, communication about steps being taken is key to managing uncertainty, a key factor in anxiety.
A recent review of quarantine studies was published in The Lancet by Samantha Brooks and colleagues. They observed that a key determinant of people's ability to cope psychologically was having an understanding of why quarantine was important and exactly how long they would be in lock-down. But this review also suggest that those between 16 and 24 years of age might be particularly at risk of poorer psychological coping.
As a developmental stage, young adulthood is a particularly sensitive period in psychological development. We know that 75% of all mental health problems first occur during this period. Good data for Ireland on this group comes from MYWORLD_2, a landmark national survey of over 8,000 young adults published recently. Approximately half of this representative sample showed high levels of anxiety in 18-25 year olds even before the pandemic.
From RTÉ Radio 1's Drivetime, Della Kilroy reports on new research about teen mental health
This was not just worrying: anxiety here related to experiencing what psychologists consider to be clinically significant symptoms. Neither was this "business as usual" for this age group as these scores were significantly higher that was reported for a similar age group less that 10 years previously. The top stressors reported by young adults were college, the future and finances.
The real reasons for this massive surge in mental health difficulties are often debated. Social media is often blamed, but high self-expectations and long term consequences of recession related financial instability may be just as important.
How are these individuals, who are already showing significant difficulties, likely to cope now? With some difficulty, is the answer. Social isolation (including the inability to gather in peer groups, no sporting outlets etc.), boredom and a lack of routine are likely to compound the mental health difficulties already being experienced.
From RTÉ Radio 1's Ray D'Arcy Show, interview with Tim Lomas, author of The Positive Power of Negative Emotions which shows the necessity of sadness, anxiety, envy and boredom
Of course, this is unlikely happen immediately. Unlikely physical illness, the psychological fallout from emergencies such as the present one may not be felt right away. If anything, young people may respond positively initially to college closures and the suspension of usual routines as the prospect of one big long break may initially bolster all moods.
But even beyond young people, the delayed effects arising following being caught up in an emergency are well known. The graph below from the HSE's Psychosocial & Mental Health Needs Following Major Emergencies guidance document illustrates that it's often only when physical/medical needs start to resolve that emotional needs are felt. What this graph also suggests is that while immediate (acute) needs may resolve quickly, psychological needs can take longer to resolve.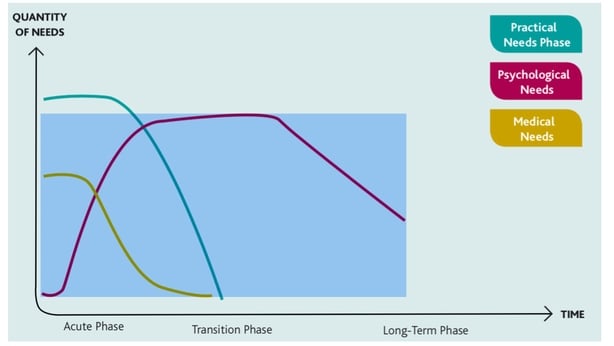 But how can sitting at home as a young person be considered as any sort of emergency? In truth, we don't know for sure because our current situation is unprecedented. But clues about the likely answer can be found in a number of places. For one thing, we know that the effects of social isolation and loneliness are damaging. A review based on data from more than 70 studies found that chronic loneliness and isolation was associated with significantly increased mortality. Relating these chronic effects to the current situation, the author Julianne Holt-Lunstad suggested there was a risk that people would start to habituate to being isolated and find the habit hard to break even when restrictions were lifted.
Sound alarmist? Not according to scientists who study post traumatic stress disorder, a type of mental health disorder affecting some individuals who experience a traumatic event. Compared to the present pandemic, they argue that the effects of major disasters like 9/11 or Hurricane Katrina or the 2004 Indian Ocean tsunami at least had finite endings. We're stuck in something where we don't know when it will end and many of our normal needs and coping strategies have been disrupted in the meantime.
The opportunity to get dressed up, go out, and meet up is sorely missed by this group and they're already starting to talk about big post-coronavirus parties
Among these needs, the need to connect socially is paramount. Aristotle defined humans as essentially social animals and modern neuroscience still holds this to be true. The "social brain" hypothesis suggests that our brains have evolved to allow us to connect with others on a large scale so as to solve problems and gain acess to physical and emotional support.
In her book Inventing Ourselves: The Secret Life of the Teenage Brain, Sarah Jane Blakemore argues that developing this 'social' brain takes time and effort, and most of all experience. One way of thinking about the brain is like a tree that is pruned by learning experience. Unlike other animals who reach maturity relatively quickly, humans are slow to mature because they need time to gather the experiences to map out their social worlds and know how to respond adequately.
Sarah-Jayne Blackmore's TED talk on the mysterious workings of the adolescent brain
But weren't young people getting that primarily from TikTok and Snapchat anyway, modes of interaction that are alive and well if the number of memes floating around are anything to go by? Well, yes: certainly taking a phone from a teenager is like akin to taking a gazelle's thigh bone from a tiger. However, that's all well and good as a supplement to other social activities, including schools and colleges, hanging out in each others houses, going on night's out and so on.
We all understand the limitations of social media such as the lack of depth, and the frequent misunderstandings. Video clips and memes do allow us to connect at a certain level – we share, we laugh together, we are entertained, we can feel connected and we feel we know what's going on. One interesting example has been the increased use of Houseparty, an app where young people video chat in groups in a virtual house. Just as in a real house party, you can choose to join or leave conversations. Just as friends of friends might join in at a regular party, same here.
Humans are slow to mature because they need time to gather the experiences to map out their social worlds and know how to respond adequately
Of course, this virtual contact can't meet all social needs. The opportunity to get dressed up, go out, and meet up is sorely missed by this group and they're already starting to talk about big post-coronavirus parties. But in the meantime, this is what they have. Our current situation is unlikely to help parents who were afraid of the effect of too much screen time and social media.
So what message should you be giving to the young people in your house? Well, according to the evidence, the poet Hesiod is probably still right: moderation is best in all things. Based on the MYWORLD_2 survey, spending more than three hours per day on social media was associated with poorer coping and greater difficult with mood and anxiety. Now that young people have to sit at home all day, could that be a rule of thumb? Whether it is or not, understanding the need for social contact, both for mental health and for developing brains, will be key to helping young people cope in the coming weeks.
---
The views expressed here are those of the author and do not represent or reflect the views of RTÉ.